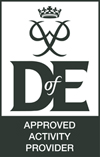 As an Approved Activity Provider (AAP) we can support your Duke of Edinburgh's Award candidates' expedition training and assessment.
Training for the Expedition
Training follows the requirements of the Award and is pitched at the level of each group; Bronze full training, Silver refresher and skills developments, Gold refresher and further developments.
Bronze Award information Bronze Award (pdf)
Silver Award information Silver Award (pdf)
Gold Award information Gold Award (pdf)
Training courses can be arranged to cover the following skills:
Navigation
Training includes the use of map and compass, timing, pacing, special skills and much more. The training will cover the basic skills required to get participants navigating to the skill level required for the level of award they are undertaking.
All participants will be accredited under the BSOA Explorer Challenge Award scheme. Assessments are also available under the National Navigation Award Scheme: Bronze, Silver and Gold certificates can be awarded.
Campcraft
Training includes site selection, use of tents, sleeping bags, stoves - different types, ease of use, etc., nutrition and types of meals which can be easily cooked, rucksacks, clothing, environmental considerations and much more.
Walking
How to operate safely as a group, decision making, practical map reading, hazards, personal fitness.
Mountain Biking
Training includes the safe cycle, on and off-road skills, cycling with panniers, bike maintenance and much more.
Open Canoeing
First Aid
Outdoor First first aid courses include; vitall signs, emergency action, levels of consciousness, bleeding, cpr, and much more.
The Basic (one day) First Aid course is valid for 3 years (this course also allows the participant to be nominated as the Appointed Person within the workplace).
The Emergency (two day) First Aid course is also valid for 3 years and is recognised as sufficient by National Governing Bodies such as RYA, MLT, BCU, for holders of thier coaching/leading awards.