Ben Alder Range. 
A pleasant if long trek in and out of a superb wild area, with the first day to mountain bike in from Dalwhinnie to the Cula bothy. Then in the second part of the day ascend Carn Dearg 1034m M98. With 2 full days in which to bag Ben Alder 1148m M25 and Beinn Bheoil 1019m M112. Another day to ascend Aonach Beag 1116m M37 and Geal Charn 1132m M26. Biking back out the 4th day and if time ascending The Fara 911m which is only just short of Munro status.
Ben Alder Range Expedition Course Dates
28 - 31 May 2019
By arrangement for 4 or more

 
 Fee £ 
contact us for details.
Grey Corries, Aonach Beag, Aonach Moor, Carn More Dearg and Ben Nevis 
The Grey Corries lie east of the Ben Nevis range and south of Spean Bridge. The mountains form a spine creating superb high-level ridge walking. Spend an exhilarating 3 day expedition with us along this spectacular range bagging 8 Munro summits. Meeting at Spean Bridge we will walk out to the bothy. From there we can bag the Corbett of Sgurr Innes. The next day head for the main ridge and picking of Stob Ban 977m M178 before Stob Choire Claurigh 1177m M15. Off along the ridge to Stob Corie an Laoigh 1116m M38. Down and up to Sugurr Choinnich Mor 1094m M52 and on to Aonach Beag 1234m M7. This is a long day and we normally spend the nigth on the col between Aonach Beag and Aonach Mor. Alternatively, if we are walking wel,l dropping down to the col between Monarch Berge and the CMD. There is ample water supply and pleasant camp / bivvy sites. Next day up on The CMD arête 1220m M9 and on the summit of Ben Nevis 1344m M1. Down the tourist path to Fort William. This is a spectacular expedition granting superb views (weather dependent).
Grey Corries Range Expedition Course Dates
3 - 5 June 2019
By arrangement for 4 or more


Fee contact us for details.
Black Mountains
This is the range of mountains you hurry past on the A82 heading from Bridge of Orchy to Gen Coe. This majestic range is often photographed in winter from the A82. This walk takes in 4 Munros over 33km and Includes a visit to the Kings House Hotel. 
Starting at the Inveroran Hotel on the Old Military Road, now forming part of the West Highland Way, we continue to Victoria Bridge and Forest Lodge. Climbing up to Stob a' Choire Odhair 945m M226, Stob Ghabhar 1090m M55, dropping slightly to then climb up to Creise 100m M50and on to Meall a' Bhuridh 1108m M45. From the summit we drop down to the A82 and on to The Kings House Hotel. We return to our starting point along the West Highland Way. This undertaking requires one night out either camping or bivyving
Black Mountains Expedition Course Dates
5 - 6 June 2019
By arrangement for 4 or more


Fee contact us for details.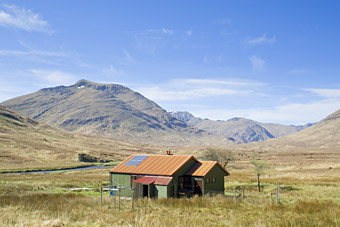 Glen Affric
Starting from the car park at the end of the road we mountain bike to Glen Affric YHA. This hostel is in a very remote location with the car park approx 7.5 miles away. Based at the hostel or camping outside we have access to 8 Munros. After biking in to our base camp we can quickly bag An Scoach 921m M269. Next come Sgurr nan Cesthreanhnan 1151m M22 and Mullach na Dheiragain 982m M167. These are followed by A' Chralaig 1120m M33 and Mullach Fraoch – Choire 1102m M49 another day. We have an easy day to bag Criste Dhubh979m M173. and finish off with Beinn Fhada 1032m M100 and A' Ghlas – Bheinn 918m M273. The final day is spent packing up and mountain biking back to the car park. Dependent on availability and numbers this expedition can be based at the Strawberry Cottage.
 Glen Affric Expedition Course Dates
2019 TBC
By arrangement for 4 or more


Fitness Levels Scottish wild and remote expeditions
Due to the remote nature of the expeditions and lack of easy escape routes, you as a participant should ensure that you have an appropriate level of fitness to manage the expeditions. The distances are not long and we have all day to enjoy and savour the surroundings and route. Participants need to have the ability to carry 30lbs (ish) on a daily basis. Though this is not impossible some practice is advised if you have not experienced this weight. The terrain covered is mainly on paths and tracks, which may be rough, rocky and wet at times plus there is some un-pathed terrain.