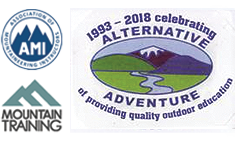 Alternative Adventure &
Outdoor activities Services
Qualified Professionals Delivering
Quality Outdoor Courses and Activities
1993 to 2018 Celebrating 25 years of providing quality outdoor education.
Mountain Skills
The Mountain Skills course is an ideal choice for walkers interested in applying their countryside walking skills to the mountain environment. Ideally, participants would have done some basic hill walking previously and have a reasonable level of fitness. Skills in map and compass, mountain weather forecasting, movement through steep ground, planning and preparation, emergency procedures, seasonal effects and the mountain environment all form the syllabus of this course. The course is run in the main high mountain areas of the UK and Ireland.
Course duration: 2 days
Minimum age: 14 years
Terrain areas: Mountains of the UK & Ireland.
Registration Cost:
All participants are required to register with Mountain Training. This is a one-off cost and allows access to either or both courses.
Cost: £20 per (£17 for under 18's)

Registration cost include:
Access to the Mountain Training Digital Logbook
A copy of Safety on Mountains handbook
Certificate of attendance for both courses
Access to technical advice from Mountain Training
Mountain Training Mountain Skills Course Dates
2018 TBC


The Mountain Training Association  is pleased to announce that the development of two personal skills courses aimed at new and improving hill walkers is being implemented, with the aim of launching the scheme in April, 2014.

Mountain Training coordinates the training of the Hill and Mountain Skills courses through its network of approved course providers. These courses are a practical introduction to the skills required to get started in hill walking and mountain walking. The course aims to equip participants with the basic knowledge and essential safety skills required to start pursuing their own participation in hill and mountain walking as a leisure time activity.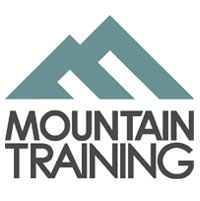 Details TBC
Hill Skills
The Hill Skills course is aimed at the beginner hill walker and ideal for those interested in developing a practical understanding of how to plan walks, become familiar with the use of a map, learn about the equipment required and also gain an understanding of the effects of weather, how to deal with emergencies and gain a valuable understanding of the upland environment. The course utilises countryside and moorland areas where the skills will be transferable to many popular walking areas of the UK and Ireland.
Course duration: 2 days
Minimum age: 14 years
Terrain areas: UK & Ireland countryside and moorland.
Registration Cost:
All participants are required to register with Mountain Training. This is a one-off cost and allows access to either or both courses.
Cost: £20 per (£17 for under 18's)

Registration cost include:
Access to the Mountain Training Digital Logbook
A copy of Safety on Mountains handbook
Certificate of attendance for both courses
Access to technical advice from Mountain Training
Hill Skills Handbook (pdf)
Mountain Training Hill Skills Course Dates
21 - 22 April 2018
5 - 6 May 2018
12 - 13 May 2019
26 - 27 May 2018
28 - 29 July 2018
20 21 August 218
22 - 23 September 2018
27 - 28 October 2018
By arrangement for 2 or more


Course dates by arrangement for 4 or more people. Schools and college group rates available.

We are also delivering this course in conjunction with Campcraft of Bolton. Tel 01204 524504 for course dates.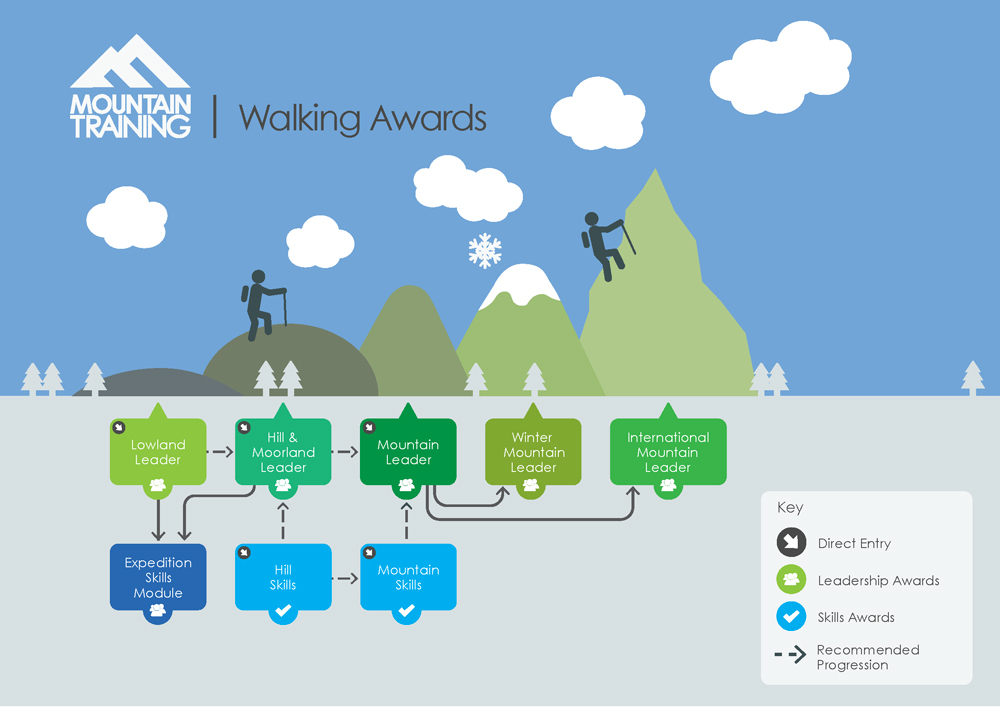 This course will primarily focus on gaining an understanding of the characterisitcs and use of a basic hand held GPS. At the the end of the course participants will have gained more knowledge, skills and be confident about the use of GPS receivers, and be able to use a GPS receiver to its maximum advantage for other navigational skills.
This course will look at the basic functions of the GPS device. However, there will be an opportunity to discuss other GPS receivers which have a range of functions. The day will be a mixture of indoor and outdoor practical exercises in the locality of the West Pennine Moors. 
The course will look at the following:
An overview of the GPS system and how it works including acquiring satellite signals
Setting up the GPS receiver for use at home or abroad, main function buttons and accessories
Main menu pages, navigation, map, trip and computer.
Inputting waypoints and routes.
Finding locations using the "GoTo" function by the introduction of geocaching.
Setting and using the trip computer and Track log as a checking aid.
Navigating a pre designated route with your GPS.
GPS for Outdoor Users 
This one day course is designed for those who want to get the most from their GPS unit with aim of the course being 'To provide you with the operational skills to utilise your GPS in the outdoor environment'
This course covers the following:
How GPS works
Information to allow your GPS to function, incorporating map datums and coordinates
Reciever set up
Waypoints and routes
Following a route
The day consits of both theoretical and practical outdoor sessions on the West Pennie Moors to enhance your understanding of the device and your enjoyment of the outdoors.
If you are still thinking about buying a GPS we will be using our Garmin GPS, giving you a chance to try before you buy. For those who own a different GPS, this is chance to compare and contrast features and ease of use. 
GPS Training Course Dates
14-Aug-18
08-Sep-18
28-Oct-18
Wednesday, November 07, 2018



Course fee £ inc. VAT per person
Course dates by arrangement for 2 or more, contact us with your requirements.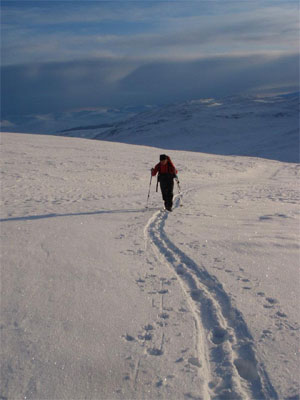 Guided Winter Walking 
These one, two or more days winter walking holidays are suitable for those who have summer walking experience but who haven't had much chance to get out into the hills in winter. Also, they are a great opportunity to brush up on navigation skills and bag a few Munros. We will look at basic navigation and  teach the basic use of the map and compass on the hill.  Navigation techniques covered include – using handrails, collecting points and tick-off features, aiming off, timing & pacing and relocation skills. Also, some time will be spent considering contour lines and how they relate to the land features we see around us, matching the map to the terrain.  Short breaks are offered in Lake District and North Wales as well as longer trips in Scotland.
Fee £: contact us to discuss your requirements and prices
Winter hill walks and skill courses Scotland
Based out of Newtonmore in the Central Highlands we have a central location to access a variety of Munros. You will have the opportunity to bag, under winter conditions, a number of classic Munro tops. The Munros provide solitude from the crowds in the Cairngoms, Glen Coe and Ben Nevis ranges. 
At  the rear of Newtonmore are the Munros of Carn Dearg 945m, Carn Sgulain 920m, ' Chailleach 930m.
At Lagan is Ceal Charn 926m. South down the A9 is the Drumocher Pass with access to Sgairneach Mhor 991m, Beinn Udlamain 1011m, Ceal – Charn 917m, A'Mherconaich 975m, A'Bhuidheanach Bheag 936m, Carn na Caim 941m and Meall Chuaich 951m.
West along the A86 to Creag Meagaidh 1128m, Carn Liath1006m and Stob Poilte Coire Ardair 1054m. From Creag Meagaidh on the A86 is Beinn a' Chaorainn 1052m and Beinn Teallach 915m. Glen Feshie provides access to the hills west of the main Cairngorms.  They are Sgor Gaoith 1118m and Mullach Clach a' Bhlair 1019m. 
We will look at the use of ice axe, crampons, navigation, snow structure and weather. You will need personal hill walking equipment suitable for winter conditions.
Winter Skills 3 Days Course Dates
19, 20 & 21 Decembe r2018
2, 3 & 4 January 2019
By arrangement for 4 or more


Winter Skills 5 Days Course Dates
27 - 31 December 2018
5 - 9 January 2019
By arrangement for 4 or more


Ben Alder Range Winter expedition 
As something a little different and with a remote and wilderness feel then the Ben Alder range has it all. Routes and summits are similar to the summer expedition, but using the bothy as a base. If we carry in a supply of coal between us then we will then have the luxury of a fire in the evenings! The first day we mountain bike in from Dalwhinnie to the Cula bothy. From there ,in the second part of the day, we  ascend Carn Dearg 1034m M98. This gives us 2 full days  to bag Ben Alder 1148m M25 and Beinn Bheoil 1019m M112 and Geal Charn 1132m M26. We pack up before biking back out the 4th day and, if time permits, ascending The Fara 911m which is only just short of Munro status.
Please note: You will need personal clothing and backpacking (Winter sleeping bag, 65+l ruscak, head torch,etc.) equipment for this expedition. We will supply roll mat, stove, gas, food, K/F/S, plate, cup, bowl and mountain bikes.  Meet Dalwhinnie railway station.
Next expedition date is 
Winter Skills – Lake District / North Wales
Clothing & Equipment, ice-axe & crampons, Micro-Navigation & Route Finding, Avalanche Assessment , Emergency Rope-Work, Emergency Procedures and Survival Skills. Within each of these headings we will cover the skills and techniques you need to cope witht the weather conditions common in the British mountains. Contrary to popular opinion, avalanches are fairly common in the British mountains and are more prevalent on the less steep ground that walkers are likely to use.
This will include: Using your ice axe to move on the typical steep ground found while UK hill walking, self arrest in different positions, cutting steps in hard snow or ice, how to and how not to glissade, how to self arrest if you lose or haven't got an ice axe, kicking steps and good footwork, cramponing techniques, using ski poles, using ski poles for self arrest. Navigational techniques for bad weather and white out conditions. 
Course dates/Course fee contact us for details 
Winter Walking equipment
Mountaineering boots (stiff enough for walking crampons)
Gaiters
Thermals or suitable under clothing
Insulating layers – at least one mid weight and one warm fleece layer
Thick socks (several pairs)
Spare fleece/insulated jacket
Waterproof jacket (with a good hood)
Waterproof overtrousers or salopettes
Hat & balaclava
Mitts & gloves – a thin pair, thick pair & big mitts over the top!
Snow goggles
Whistle
Headtorch, spare batteries & bulb
Compass – Silva type 4 recommended
Blister kit/ small first aid kit
Vacuum Flask
Pen – permanent fine map marker
Map – OS  1:50000 laminated (We supply)
Survival Bag -Plastic type
Camera and film
Rucksack ( 50+ Litres)
Rucksack liner (or sturdy bin liner)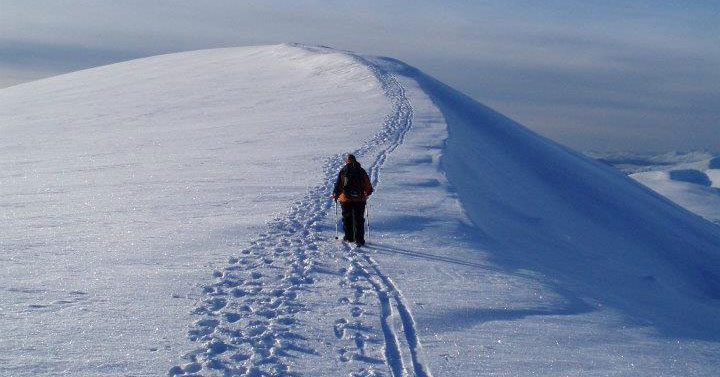 Our aim with this course is to introduce you to further skills and techniques from our level 1 off-road mountain biking day. Undertaking this course, will equip you with the additional skills techniques necessary to rideoff-road safely and confidently and tackle more technical trails.
This course leads on from our level 1 day, but you are not required to have attended this day before coming along on the level 2 day. Throughout this course, you will tutored by our first-class mountain bike tutors, developing your skills and sharing your experiences alongside other riders at a similar level of experience to you. A great off-road riding day using excellent mountain bike riding venues.
Personal fitness level required.
Mountain biking off-road is by its very nature a more demanding form than, riding along a canal or road. You will need a basic level of personal fitness. This may be gained by a few aerobic work-outs before the course. Please call if you are unsure about the fitness level required. As a guide you will need to be able to ride up hill for periods of 10 to 15 minutes at a time.
The nature of the courses is that they are skill-instruction based. New techniques are demonstrated and explained in detail before all participants practice the techniques themselves; this puts theory into practice straightaway and will allows you to try something new with the support of our experienced tutors on hand.
The day will look at the techniques below in a fun and relaxed atmosphere.
What you will learn...
The aims of this course are to reinforce and develop the skills previously learned on the Beginner course, or develop existing skills. The course will also cover the following advanced techniques:-
Mountain bike preparation (safety checks), Steep descents, Slow drop-off up to ½ metre hig, Faster drop-offs at speed, Climbing and descending in advanced rocky/stepped terrain, Faster Cornering techniques, Riding single track at speed.
Course duration
Courses start at 09.30am and finish at approx. 4.00pm.
The Bike. We can supply bikes for this course. If you which to use your own please ensure that it is well serviced with off road tyres and front suspension. All participants providing their own mountain bike must ensure it is in good working order or we will ask you to use one of our bikes.
Mountain Bike Hire
2014 bike fleet by Dawes and other makes.
Want to ride on your own? We are able to offer bike hire to a minumum group 6 or more at cost of bike hire plus £25 delivery charge to Lever Park at Rivington near Horwich, Bolton and to Tockholes, Darwen. Delivery available to other West Pennine and Greater Manchester countryside venues.
Please call for further information. BOOKING ESSENTIAL.